There's something to be said about the small town nostalgia offered up in the Andy Hardy films produced by MGM between 1937 and 1958. The sentimental comedies were a slice of Americana, a picture of an idealized way we lived at the end of the depression and the end of the war.

The first film of the series, A Family Affair, hit theaters in 1937 and was intended to be a one off B-picture based on the play Skidding by Aurania Rouverol. Filmed in 17 days, A Family Affair reunited the cast of the popular family comedy Ah! Wilderness and starred with Mickey Rooney as Andy Hardy with Lionel Barrymore and the fabulous Spring Byington as Judge and Mrs. Hardy , Sarah Haden as Aunt Milly and Cecelia Parker as sister Marian Hardy. After this initial film Barrymore and Byington were replaced by Lewis Stone and Fay Holden.


The Hardy family and their life in small town Carvel, Midwest USA was exactly the type of film that appealed to MGM studio head Louis B. Mayer. It's a 1930s dream town crafted by Mayer whose preference for the sentimental and patriotic was legendary. The Hardy's presented America with the image of a strong unified family headed by a stern but loving and approachable patriarch, Judge Hardy and a doting domestic mother, Mrs. Hardy. Further support came from sensible and sweet Aunt Milly, who did double duty as a Carvel High School English teacher. The Hardy's lived a solid middle class life that resembled many middle-class families with troubles that mirrored many American families troubles. The trailer was true for many people, the Hardy's could be your neighbors and that was a big part of their appeal.
While the early films featured plots that revolved around the entire family, soon the main storyline began to focus on Andy and his antics. He was always getting into some sort of youthful trouble with money, school, or cars and girls, (particularly with his on and off again steady Polly Benedict, played by Ann Rutherford). Since the Hardy films were immensely popular they offered a great platform to introduce new faces to the movie public. Andy had romantic adventures and entanglements with characters played by Lana Turner, Katherine Greyson, Esther Williams and Judy Garland among others.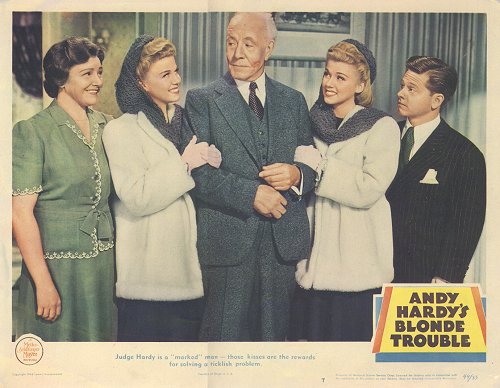 However, not all of the films were light and breezy. Life Begins for Andy Hardy took a dark turn when following high school graduation Andy decides to strike off on his own in the big city. He finds himself embroiled in a romance with an older married woman and becomes friends with a young man who later commits suicide. Well, he dies of a heart attack in the final film because the censors had a little problem with the suicide.
The wonderful thing about the Hardy's is that they are not a family full of angst and resentment. They are not the type of modern American family we see in today's films with weekly therapy sessions and lives lived separately and so many issues. The Hardy's ate dinner together every night and the family discussed their problems as a unit. Famously, when Andy needed the wise advice of his father after finding himself in some sort of trouble they engaged in a man to man talk where the Judge reiterated the values of doing the right thing even if i was hard and not always beneficial to the sometimes selfish Andy. Each movie presented at its conclusion a moral lesson that helped Andy become a better man and a better citizen.
The Andy Hardy films were a pet project of Louis B. Mayer and if something filmed did not fit his idea of mom and apple pie America he demanded it be reshot. Mayer once insisted a scene where Andy is so heartsick he refuses to eat be rewritten because he could not believe a healthy American teenage boy, even a heartsick one, would refuse to eat anything for any reason. Also, in his eyes a good American boy would never insult his mother by sending away a dinner she worked so hard to prepare.
Mayer truly believed in the values put forth in the series and so did Americans. The Hardy films are said to be the most popular film series ever produced in the United States. In 1941, the cast was named the first family of Los Angeles by mayor Fletcher Bowron and the Academy Awards presented the series a special award in 1943 for representing the American way of life.
Gerard Jones, in his book "Honey, I'm Home! Sitcoms Selling the American Dream," says that the Hardy films created an ideal small town where traditional security and strong parental figures mixed painlessly with the slangy swinging world of modern teens. For conservatives audiences battered by unwelcome change, these movies provided a seductive fictional retreat to a place such citizens could believe they had once lived in and might create again.
One of the saddest, yet most telling images, I have ever come across on the Internet is a picture of a part of the MGM backlot that was home to
Andy Hardy Street
. This image of the deserted street speaks to how far removed we are from the world of Carvel, USA, the man to man talk and family dinners. While the Andy Hardy films showed life in a white middle class world the values of family, integrity, responsibility and citizenship are universal.
FILMOGRAPHY